About Us
At Western States Glass, Inc. our management team has worked together in the glass industry for over 35 years. When we started our wholesale glass distribution and fabrication company, our goal was to provide customers with the personable service you can expect from a family-owned business, as well as provide a wide selection of high-quality glass products to better serve any of your glass needs.
Our company stands apart from competitors because we have a team of long-term employees that have been with us for years. Our inside and outside sales staff, production, distribution, maintenance and office staff has extensive experience in their respective fields and share our commitment to providing our customers with the best possible service. Whether you are working with our order desk, drivers, sales staff, or another member of our team, you will receive the reliable service you need to get the job done.
Management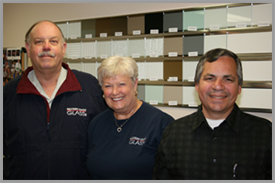 From left to right: Bob Eckhardt, Margie Snodgrass, Bobby Mazon
Outside Sales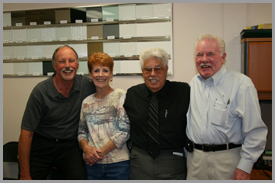 From left to right: Lee Snodgrass, Fionnuala Anderson, Ralph Romero, Jack Reardon
10 Reasons Why to Choose Us
Our customers trust us for their glass needs because we built our business on quality, service, dependability and competitive pricing; we also offer:
Customers come first
Experience
Competitive pricing
On-time delivery
Overnight delivery
Job site delivery
Best equipment
Knowledgeable order desk
Quality products
CRL shower deduction tool
Contact Western States Glass, Inc. today to place an order with us.