Fabrication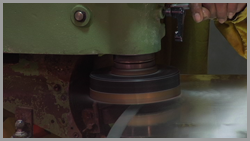 At Western States Glass, Inc. we are committed to providing our customers with high quality craftsmanship at a competitive price.  We have a team of skilled workers who have years of experience fabricating glass, and we manufacture all of our products using state-of-the-art systems. Our automated equipment allows for greater precision, more varied applications and faster turnaround times. Contact our order desk for a complete breakdown of the custom glass products our fabrication department can produce, including:
Table tops, shelves and other glass products
Beveling – Straight line and custom shape
Hole drilling, notching, angle and radius corners and cut outs
Polishing – Machine and hand polishing
Polished Mitre – 0-45 degrees
Cut size – Automated, high-speed cutting line for most custom sizes and shapes
Custom manual pattern cuts
If you are interested in placing an order for custom-made or standard glass products, contact Western States Glass, Inc. today.